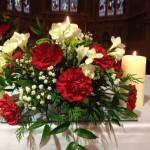 Helping to keep our Church beautiful
If you are creative or simply just want to give it a go, please sign up.
We are a friendly group of volunteers working in teams.
Each team is responsible for the Church flowers during a particular theme in the Church year.
Please contact the Parish Office if you are interested in joining us.