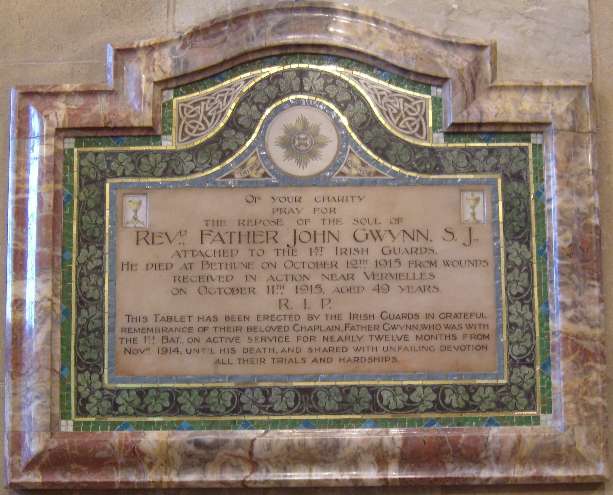 He was a powerful and eloquent preacher, and questions of sociology had a strong attraction for him. One of the papers he read some years ago before the Catholic Truth Society on social problems in Dublin was of special interest. His Lenten Lectures at St Francis Xavier's, Gardiner Street, received much attention.
As soon as the war broke out, Fr Gwynn volunteered to serve as a chaplain on active service, even though, as he often said afterwards, he had no idea what his work would be. In the first week of November 1914 he was assigned to the 4th class attached to 1st Battalion of the Irish Guards.
When he first joined the division, the soldiers were in a little French village resting, re-equipping after suffering badly at the front line at Ypres. Fr Gwynn got to work immediately, getting to know the men. After a few days, he had settled in as if he had been with them from the beginning.
One of the Irish Guards (himself an Old Belvederian) wrote about Fr Gwynn – He was actually loved by the men of our battalion, and too much cannot be said of the way in which he looked after each and every man of the battalion.
His first experiences were very rough. It was January 15th when I saw him wading in the water up to his chest to reach the front line of the trenches to comfort the men with his jolly conversation.
When the battalion was in the trenches or in action, Gwynn stayed with the Medical Officer at the Battalion Regimental Aid Post – the place where wounded soldiers are taken for first dressings. He would share the Medical Officer's dugout so that he would waste no time in getting to an injured man, if need be, day or night. During the day, heedless to his own danger, he would constantly go round the trenches to talk to the men, even if they were being shelled.
Fr Gwynn also undertook all the normal work of a Jesuit, saying Mass, hearing confession, administering Extreme Unction (the last rites) whenever it was necessary and invariably reading the burial service over men who were killed, even if it meant that he would have to stand up at night in an open battlefield swept by bullets.
He helped the men to keep up their morale and deflected their attention from the war during times of rest by employing his time in organising sports and concerts for the men. He even trained some of them to form a choir. They used to sing at his services.
On 6 February 1915, Fr Gwynn was slightly wounded by a shell that burst near him. However, he remained on duty. In April and early May he began to suffer from lumbago, but he still stayed with his men. It wasn't until mid May that Fr Gwynn, completely crippled, was taken to hospital. He returned in mid June, before he was really fit to do so. Unfortunately, he was never quite as strong as he had been before his illness.
Lord Desmond Fitzgerald, the Captain of the 1st Irish Guards, wrote the following account of Fr Gwynn and how he met his death in a letter to a Jesuit priest, William Delany SJ –
No words of mine could express or even give a faint idea of the amount of good he has done us all out here, or how bravely he faced all dangers and how cheerful and comforting he has always been. It is certainly no exaggeration to say that he was loved by every officer, N.C.O. and man in the battalion. The Irish Guards owe him a deep and lasting debt of gratitude, and as long as any of us are left who saw him out here, we shall never forget his wonderful life, and shall strive to lead a better life by following his example.
The unfortunate shell landed in the door of the Headquarter dug-out just as we had finished luncheon, on October 11th. Father Gwynn received one or two wounds in the leg, as well as a piece of shell in his back through his lung. He was immediately bound up and sent to hospital, but died from shock and his injuries at 8 a.m. the next morning, October 12th. He was buried in the cemetery at Bethune, at 10 a.m. on October 13th. May his soul rest in peace.
Fr Gwynn had made it his unfaltering practice to write to the relations of any man who had fallen and, in this way, his words brought comfort to many Irish families. He had always been found in the worst of places ready to help the wounded or administer sacraments to the dying. It was said that he would have been happy to die as a 'soldier of God'.
The following is the inscription on Fr Gwynn's gravestone, although his age should be given as 50 years.
R.I.P.
REV. FATHER JOHN GWYNN, S.J.,
attached to the 1st Irish Guards
He died at Béthune on October 12th, 1915,
from wounds received in action near Vermelles
on October 11th, 1915. Aged 44 years.
This Monument has been erected by all ranks of
the 1st Bat. Irish Guards in grateful Remembrance of their Beloved Chaplain,
Father Gwynn, who was with them on active service for nearly 12 months
from Nov., 1914 until his death, and shared with unfailing devotion all their trials and hardships.