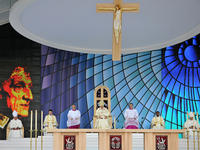 On his historic visit to the UK he beatified Cardinal John Henry Newman at Cofton Park.  He paid tribute to Cardinal Newman's insights into the vital place of "religion in civilised society".   The Pope declared Cardinal Newman "blessed" before thousands of worshippers – "His insights into the relationship between faith and reason, into the vital place of revealed religion in civilised society, and into the need for a broadly-based and wide-ranging approach to education were not only of profound importance to Victorian England, but continue today to inspire and enlighten many all over the world," he said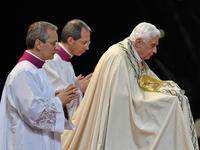 He earned great respect from young and old alike, Catholics and non-Catholics too.  The preconceived view of the Pope could not have been more wrong.  He came across as a very humble, friendly, courteous, quite a shy man with a very deep faith.  He did deliver a strong message to all Catholics in the UK  and David Cameron thanked the Pope at the end of this historic visit for an "incredibly moving four days for our country" which had created a "challenge to us all to follow our conscience".
A number of our own parishioners travelled to Hyde Park and Cofton Park to represent the Sacred Heart Parish.  The resounding message from them all was of what a peaceful, joyful, inspirational and moving experience it was.   Here are a few quotes:
"I was rather suprised, and more than pleased by two aspects of the experience above all. The first was that both our parish group and the assembled throng generally had a great mix of ages. I had feared that it was going to be dominated by wrinklies like me, and it was not!
Secondly, I was impressed by the beautiful silence that enveloped the whole of the assembly when the Blessed Sacrament was exposed and His Holiness invited us to pray in silence. I have seen large crowds of up to 40,000 in Lourdes behave like that, and expect to do so again in the next few days, but it seemed that the whole crowd of 80,000 showed the reverence that the occasion required.
I felt that the Catholic community in England is alive and well, and was proud to be a part of it.
Bob Tomlin
"Cofton Park was an outstanding event and the organisation surpassed all my expectations. The wisdom and humility of the Pope was very touching and made me so proud to be part of the Catholic Church. The whole day and magical atmosphere made it a memory of a lifetime."
Pilgrim to Birmingham
"All 40 of us making up a mixed group of Pilgrims from Sacred Heart Parish bundled on to the bendy bus to Hyde Park from Victoria Station. We had little time to wait before the gates opened and we found some ground not far from the erected stage. There were more of us than had turned out for Proms in the Park! The weather was fine and sunny, there was an upbeat atmosphere as familiar songs came over the address system. Then Carole Vordeman and Frank Cotterell-Boyce introduced a range of performances and meditations that gradually encouraged the large gathering to tune in spiritually before watching the Pope's progress from Whitehall to Hyde Park. The excitement and expectation just mounted and then he was with us. First in his Popemobile then on the stage which was transformed into a sanctuary.  He led us through a truly spiritual evening prayer and encouraged all of us to follow the call of John Newman of drawing closer to the heart of Christ. This was concluded with exposition and benediction.  Everyone returned home tired yet touched by a profound inner joy and peace."
Hyde Park Pilgrim
"I found the Pope had an impressive presence of peace. It was very touching to see everyone so happy and feel the great atmosphere around. As we walked to Victoria Station down Pall Mall, there was a feeling of peace in the air, the way everyone walked and talked, like nobody wanted to break the peace. That was it! The peace could be felt so strongly that when I mentioned it to others around me they felt the same. It was a pleasure to move with that feeling of peace which, of course, was generated through the Pope and the effect he had on everyone there".
Hyde Park Pilgrim
"I was struck by how the Pope seemed to smile from within. He glowed. In the Times he said he wanted the people to know that he 'enjoyed everything about the visit'.
Watching 70,000 people sitting in silence in a park in the heart of London was extraordinary.
What other denomination has had the privilege of worshiping on public on such a grand scale??"
Quote from a parishioner who was due to attend both events but couldn't due to illness
 "I was deeply touched by the atmosphere and the whole spiritual experience in Hyde Park.  I am a young teenager and the experience of going to the vigil has renewed my interest in my faith.  I felt like I was part of  a really big family and everyone in the Park was so moved and inspirted by the Pope.  He was a lovely man, and a great sense of calm descended on the crowd when he arrived.  It was unbelievable how quiet and reverend it was considering about 80,000 people were there.  When I'm old enough I would like to go to the World Youth Day.  In the meantime I will prepare to make my Confirmation and have told my friends of my unforgettable experience, it is something that will be with me for my whole life."
A teenage pilgrim to Hyde Park
"My ten year old son said "it was a once in a life time experience".  He really did seem to understand the gravity of the day and just what a special thing it was to be in the Pope's presence! 
As for me – "very emotional, I had a big lump in my throat – we love you Papa".
Hyde Park
 {gallery}Papal_Visit{/gallery}
Photos taken by Sacred Heart Group to Hyde Park